HTC recently did not did well in software update, the Snapdragon S3 powered HTC One S did not received any further update more after the Android 4.1 Jelly Bean update with Sense 4+, many users start complaining to HTC because this situation happened. However, it seems that this time HTC did a great job on software department, the HTC One Android 4.3 Jelly Bean update is now rolling out globally.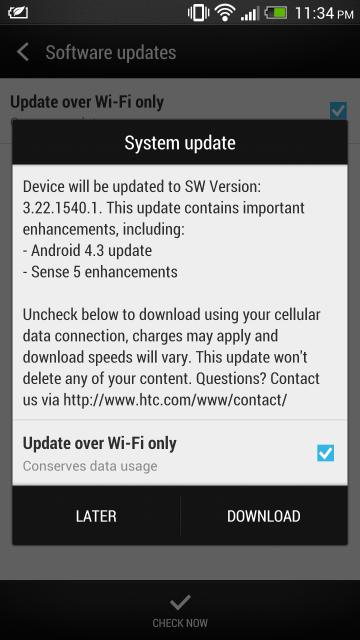 Besides the Google Nexus device, HTC was the first manufacturer who seeds the latest Android version update to their company's flagship - HTC One. While Samsung and Sony are currently still developing the update for their devices.
The update seems to brings some improvement with bugs fixed. If you updated to the Android 4.3 Jelly Bean do leave a comment let us know what changes through the update.
If you have an HTC One, check if the Android 4.3 update is available for download, if you haven't got the notification already.
Updated: Here are the changelog of the Android 4.3 Jelly Bean update for HTC One:
- Android 4.3 update
- Battery charging percentage indicator
- Improved Gallery
- Low-light performance noticeably improved
- Added few more Video highlights options
- Ability to add soundtracks to your Highlights
- Overall System got stable and more