Just after NVIDIA Tegra 4 were announced during CES 2013, Samsung had just announced Exynos 5 Octa chipset.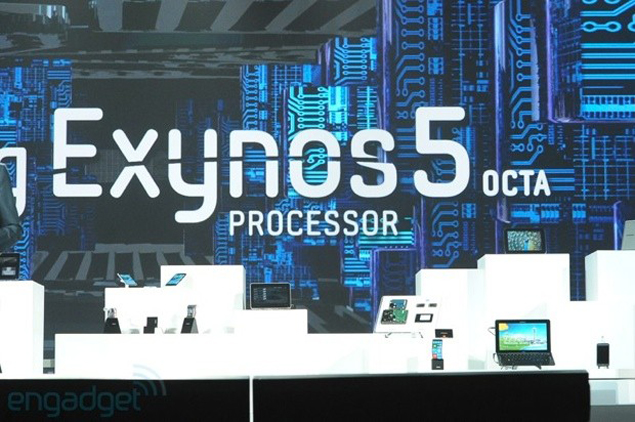 The Exynos 5 Octa brings 8 cores processing power. Inside the Exynos 5 Octa, there are four Cortex-A15 cores that ensure incredible performance and the other four are low-power Cortex-A7 cores that help to save battery and for the less demanding tasks.
Samsung claims that the 3D gaming performance is twice that of anything available at the moment. The demonstration given on stage by Dr Woo showed him searching for restaurants and watching an HD movie while singing the virtues of its fast performance and power sipping abilities.
The chipset is based on ARM's

big.LITTLE

technology, which ensures that you will always get enough performance without having to deal with terrible battery life.
Samsung has also promises that up to 70% lower power consumption compared to the Exynos 5 Dual, which is powering the Google Nexus 10 tablet. The Exynos 5 Octa is expected to run dual-quad core set ups (1.8GHz for Cortex-A15 and 1.2GHz for Cortex-A7) all on 28-nanometer process.
There's no official yet that which devices are going to use Exynos 5 Octa but we can say it maybe will work on next generation Galaxy S or Note devices.