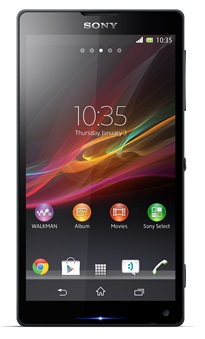 Sony Xperia Odin is the second high-end Sony smartphone that expect will announce in CES, the Xperia Odin now will be named as Xperia ZL and not the Xperia X. The Sony Xperia ZL slated to get IP57 certification but the specs are still unclear. The Xperia ZL front-facing camera will be at the bottom of phone just like the Nokia N9.
Another Sony flagship the Xperia Z has also confirmed through official image. The Xperia Z will has a 5" 1080p Full HD display and running with 1.5GHz Quad-Core Snapdragon APQ8064. The Xperia Z will come out with Android 4.1 Jelly Bean.
The Sony Xperia Z will also has a 12mp camera that perform better than the 13mp snapper on the Xperia T. There's a dedicated camera shutter key. The Xperia Z also has 2GB RAM and LTE connectivity.
We expect this 2 flagship will be announce in this coming CES event at this January 8th. This 2 flagship will be a very big competitive with the HTC, Samsung and LG. So stay tuned for this coming CES event.