The Google's event brought new Nexus tablet - Nexus 7 2. It is a 7" tablet that runs on pure Android 4.3 Jelly Bean and improves a lot from the first generation Nexus 7.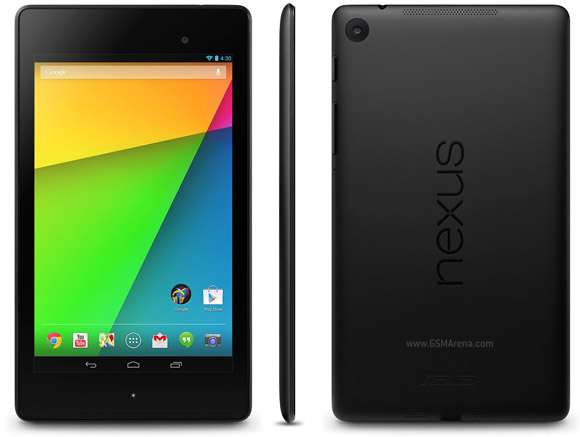 The new Nexus 7 is smaller than the previous generation, the tablet is 1.8 mm slimmer, 2.8 mm of the bezels on both sides have been shaved off and it is 50 g lighter. The tablet has an upgraded screen resolution of 1920 x 1200 pixels with 320 ppi pixel density. It's the highest resolution 7" display on a tablet and the screen also promise a 30% wider colour gamut.
The new Nexus 7 also get the chipset from Nexus 4 which is 1.5 GHz quad-core Snapdragon S4 Pro CPU, Adreno 320 GPU and 2 GB of RAM.
You also find that the new Nexus 7 has finally got a rear camera which is at 5 MP resolution and capable for 1080p video recording. There's also a 1.2 MP front camera too. Other changes include the LED notification light has located at the front below the screen and a SlimPort,
which means you can get HD video out of the micro-USB port.
Other connectivity features are dual-band Wi-Fi a/b/g/n, Bluetooth 4.0 (Android 4.3 adds native support for 4.0 + LE) and NFC. Wireless charging is also supported.
The new Nexus 7 will be available in Wi-Fi and 4G LTE models. We hope that the new Nexus 7 can arrive Malaysian market in the beginning of next month. We expected it will priced at RM 999. Stay tuned.
Via