Apple not only announced the
iPhone 5C
, they also announced the iPhone 5S, which is the latest Apple's flagship device for 2013. The iPhone 5S looks quite similar to its predecessor - iPhone 5, but there are some changes on design.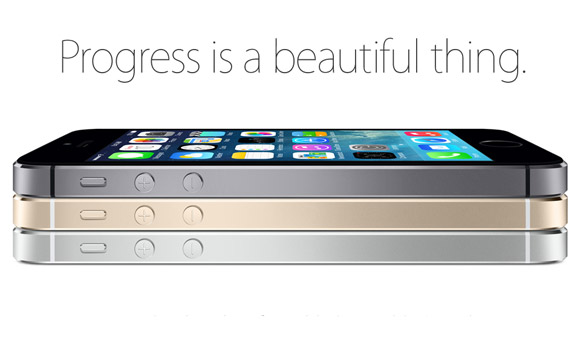 First, the iPhone 5S comes in new gold colour option, but nothing more changes on the design wise. It is still measures at 7.6 mm slim and weighs 112 g. Next, the iPhone 5S' home button also works as fingerprint scanner - Touch ID, and there is a metallic ring around the home button.
With Touch ID, you can put your finger on the Home button, and just like that your iPhone unlocks. It's a convenient and highly secure way to access your phone. Your fingerprint can also approve purchases from iTunes Store, the App Store, and the iBooks Store, so you don't have to enter your password. And Touch ID is capable of 360-degree readability. Which means no matter what its orientation — portrait, landscape, or anything in between — your iPhone reads your fingerprint and knows who you are. And because Touch ID lets you enroll multiple fingerprints, it knows the people you trust, too. Another changes are the dual-LED flash at the back, we will talk more about it head after the break.
The Apple iPhone 5S is powered by a new chipset, called A7. The chipset is 2 times faster than the CPU and GPU computations as the one in the iPhone 5.
Based on 64-bit architecture for the first time, the new iPhone 5s is said to be up to 40 times faster than the original iPhone with graphics being up to 53x faster. iOS 7 is now a 64-bit OS, but it's backward compatible with all the currently available 32-bit apps.
The A7 also supports OpenGL ES 3.0, which opens the door to even higher-quality graphics, allowing for real-time computation of effects such as depth of field, blur, full screen vignettes and lens flares.
A7 chip with 64-bit architecture
The processor is accompanied by the M7, a motion co-processor,
it's designed specifically to measure motion data from the accelerometer, gyroscope, and compass — a task that would normally fall to the A7 chip. But M7 is much more efficient at it. Now fitness apps that track physical activity can access that data from the M7 coprocessor without constantly engaging the A7 chip. So they require less battery power.
M7 knows when you're walking, running, or even driving. For example, Maps switches from driving to walking turn-by-turn navigation if, say, you park and continue on foot. Since M7 can tell when you're in a moving vehicle, iPhone 5s won't ask you to join Wi-Fi networks you pass by. And if your phone hasn't moved for a while, like when you're asleep, M7 reduces network pinging to spare your battery.
M7 motion coprocessor
Next the iPhone 5S comes with 8 MP camera with a wider ƒ/2.2 aperture and a 15% larger image sensor. The 1.5 micron pixels camera sensor
provides the benefit of lower image noise in low-light conditions and better tonal dynamic range in high contrast scenes.
There's also a new dual-LED flash on the iPhone 5S, which Apple has dubbed True Tone. The new True Tone flash intelligently figures out exactly how much light your shot needs. It's much more efficient to teach iPhone to take great photos than it is to teach millions of people to be expert photographers.
The camera also comes with new image stabilization and it also has a Burst mode, which would shoot up to 10fps as long as you keep pressing the on-screen shutter button. The iPhone 5S camera can capture 1080p videos at 60fps and 720p videos at 120fps, allowing it to create slow-motion videos.
Another new feature in video recording is the addition of 3x zoom, accessible with the well-known pinch gesture.
The Panorama mode of iPhone 5S would reach up to 28MP and exposure will adjust automatically as you pan with the phone instead of being fixed on the initial values, which get set at the start of the shooting of each panorama. This way all areas of the panorama image - both shadows and highlights - come out nicely exposed. Plus the Panoramas on the iPhone 5s are captured at 30fps, twice as fast as on the iPhone 5.
The Apple iPhone 5S has the same 1,440 mAh battery, it will offer 10 hours of 3G talk time, up to 250 hours of standby and up to 40 hours of music playback.
Apple also launched the casing for iPhone 5S. They're crafted from premium leather, so they look and feel luxurious. They come in six different colors — including a (RED)™ edition. And they're precision engineered to fit your iPhone 5S. So even when the case is on, your device is still slim and elegant in your hand.
The iPhone 5S comes in Space Gray, Silver and Gold colours.
Both the iPhone 5S and

iPhone 5C

will launch on September 20 in the US, Australia, Canada, China, France, Germany, Japan, Singapore and the UK. China is in the first wave for the first time.
By December the new iPhones will be available in over 100 countries, including for the first time NTT DoCoMo carrier on Japan.
Unfortunately, no information on the launching date of iPhone 5S in Malaysia and the pricing will probably at RM 2,199 for 16 GB version. The 8 GB iPhone 4S is now priced at RM 1,499 and the iPhone 5 will be discontinued when the iPhone 5C launch.