Previously Motorola reportedly will be working on a device that even cheaper than the Moto G. Today, the Motorola Moto E has leaked out, which is the cheapest Motorola smartphone ever.

The upcoming Moto E is expected to pack a 4.3" display with unknown resolution, 1.2 GHz dual-core processor, 1 GB of RAM and 4 GB internal storage. We believe that the 4 GB internal storage is expandable via microSD card as 4 GB is obviously not enough for users in terms of available storage these days.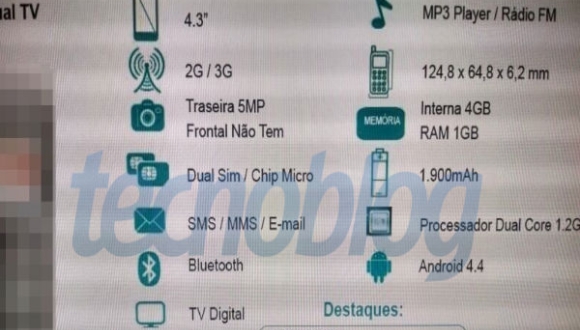 Other than that, the Moto E will be a dual-SIM device, no word on single-SIM variant. The device will pack a 1,900 mAh battery and run on Android 4.4 KitKat.
The camera is similar to the Moto G - 5 MP, and there will be a front-facing shooter too. The device measures at 124.8 x 64.8 x 6.2 mm, which is even thinner than the Moto G (11.6 mm) and Moto X (10.4 mm).
The Moto E is is tipped to arrive in the coming weeks on the Mexican wireless carrier Telcel with the model number XT1021. The device will be priced lower than the Moto G.
Source
Via