It's finally here, as previously LG unveil the
F5 and F7
and the
G Pro
, LG once again unveil Optimus G Pro, F5, F7 and 2nd-generation L-Series.
All of the six devices were already well familiar: the LG Optimus G Pro, the fresh LTE-enabled midrangers Optimus F5 and F7, and the 2nd-generation of the L-series.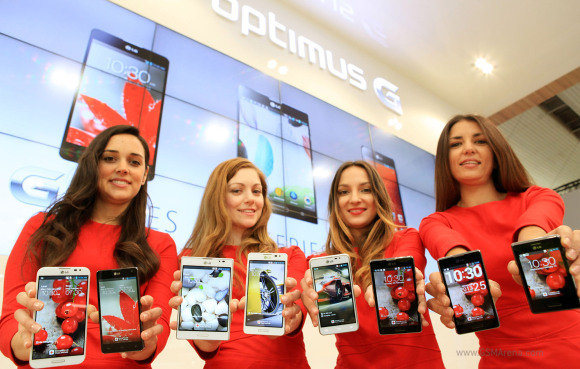 The different is the Optimus L5 II and L3 II specs are finally clear at here. Let see what special will these few smartphone be?
LG Optimus G Pro
The LG Optimus G Pro are the largest display yet to appear on an LG smartphone, the 5.5" Full HD IPS display will comes with new UX features are pack in the LG Optimus G Pro with 4G LTE connectivity.
The Full HD IPS display of Optimus G Pro delivers 440ppi pixel density, it is obviously higher than the Samsung Galaxy Note II as it only 267 ppi pixel density with it HD display. With it large Full HD screen display, it must be use out more battery life than the Galaxy Note II, LG has put a 3,140 mAh removable battery into the Optimus G Pro, so the battery will not quickly use out. Also, the Optimus G Pro support wireless charging.
The Optimus G Pro are powered by 1.7 GHz quad-core Qualcomm Snapdragon 600 processor which is the first phone that offer it. Qualcomm has announced a few new processor such as Snapdragon 600 and 800. The Snapdragon 600 are promised will be faster than Snapdragon S4 Pro processor. The Optimus G Pro also have 2 GB of RAM and Adreno 320 GPU. It also offer 32 GB internal memory with a microSD slot that support up to 32 GB expandable memory.
With an improved 13MP rear and 2.1MP front camera,
users can also capture images and videos in Full HD, the same quality found on high definition TVs.
The Optimus G Pro also comes with advanced UX features developed specifically for the device, such as Dual Recording and Virtual Reality (VR) Panorama. Dual Recording allows users to capture video with both the front and rear cameras simultaneously for a unique picture-in-picture experience. And VR Panorama allows shots of entire horizontal and vertical environments for a full 360
o
view. Creative and innovative UX features popular with Optimus G users have been added to the Optimus G Pro, such as an upgraded QSlide, Live Zooming and QuickMemo.
The LG Optimus G Pro are running Android 4.1.2 Jelly Bean and it measured in
150.2 x 76.1 x 9.4mm dimension which will be more nice to hold than the Galaxy Note II. Hopefully it will coming to Malaysia in few months time.
LG Optimus F5 and F7
The Optimus F5 will comes with a 4.3" IPS LCD screen of qHD resolution (256 ppi), a 1.2 GHz dual-core processor with 1 GB RAM and a 5 MP camera. It has 8 GB of built-in storage and microSD card slot too. The F5 is more compact at 126.0 x 64.5 x 9.3 mm. The F5 will offer a 2,150 mAh battery.
The Optimus F7 will comes with a 4.7" True HD IPS 720p screen (312 ppi) and a 1.5 GHz dual-core processor with 2 GB of RAM. The phone has an 8 MP camera and 8GB of built-in storage (plus a microSD card slot). The F7 measures 131.7 x 68.2 x 9.6 mm. It will offer a larger battery, 2,540 mAh capacity.
Both phones will launch with Android 4.1.2 Jelly Bean and will get some of the advanced features that were reserved for the flagship Optimus G until now. QSlide multitasking with ability to run two apps on the screen (and you can resize, move and change the opacity of those apps) and Live Zooming, which lets the user pinch zoom while watching a video.
LG Optimus L-Series II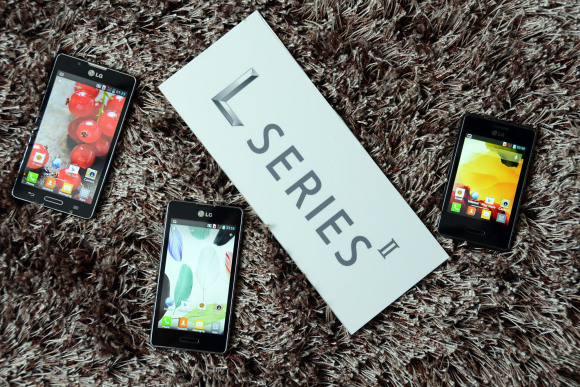 LG has also upgraded its affordable and stylish Optimus L lineup with three new phones - the Optimus L7 II, L5 II and L3 II.
The Optimus L7 II are powered by 1 GHz dual-core Qualcomm MSM8225 processor. It has a 4.3" WVGA IPS display. The camera had upgrade to 8 MP camera and also with a LED Flash similar to previous generation, the front-facing camera are still remain the same VGA resolution. The L7 II has 768 MB of RAM, 4 GB internal memory and also support micro-SD card up to 32GB. It also pack by 2,460 mAh huge battery capacity and also running Android Jelly Bean.
The L7 II will include
UX features such as Q-Slide and Quick Translator.
Availability of the Optimus L3 II
with 3.2-inch QVGA IPS display and 1,540 mAh battery and the Optimus L5 II
with a larger 4.0-inch WVGA display and 1,700 mAh battery.
The

Optimus L5 II

has a 4.0-inch IPS WVGA display, a 1 GHz MediaTek MT6575 single-core processor and PowerVR SGX531 graphics. Other known specs are the 5 MP camera at the back and Android 4.1 Jelly Bean ticking inside.
Finally, the

Optimus L3 II

features a 3.2-inch IPS QVGA screen, a 1 GHz single-core MediaTek processor, a 3 MP camera and a microSD card slot. Naturally, Wi-Fi, GPS and Bluetooth support are available too. The Optimus L3 II also runs on Android 4.1 Jelly Bean.
The L-Series II are also available in dual-SIM version.
According to LG, the "
design philosophy of the L Series II has been enhanced to include four new design elements: Seamless Layout, Laser Cut Contour, Radiant Rear Design and Smart LED Lighting on the home button
".
Unfortunately, there are still no information about the price and availability of these devices. Do stay tuned for more details.