Nokia is the first manufacturer to send out the invitation for a press event at MWC 2014, which is happening on February 24th in Barcelona.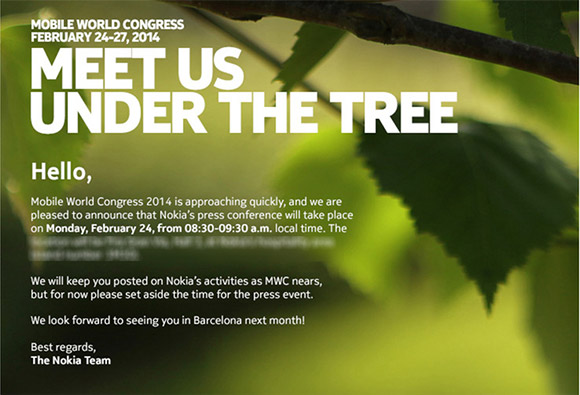 The invitation card didn't revealed any info of the upcoming event in MWC 2014. Rumors said that Nokia will unveil three more new Lumia smartphones - the Lumia 1520V, Lumia 1525 and Lumia 1820.
The Lumia 1520 V is said to be the rival of the Xperia Z1 Compact, it will be having a 4.3" display with 1080p resolution, 2 GB of RAM, 32 GB internal storage and a Snapdragon 800 processor. The device is also said to be having a 14 MP camera and a 3,000 mAh battery. The Lumia 1520V is believed to boot in Windows Phone 8.1.
As for the Lumia 1820, it will be the latest Nokia flagship - 5.2" 2K display, Snapdragon 805 processor, 3 GB of RAM, 32 GB internal storage and 3,400 mAh battery. While for the Lumia 1525, there aren't much details on it but it may just come with a 6" display.
Nokia is also expected to unveil an entry-level device, but it won't be a Windows Phone or Asha device. It will be the Android-powered Nokia Normandy, which already leaked out a lot of times. The Normandy is said to be running on Android 4.4.1 KitKat and it will be powered by Snapdragon processor. There will be a 4" FWVGA display on it and the device will carry two-SIM once.
Via