Qualcomm has unveiled two new chipsets - Snapdragon 810 and Snapdragon 808. Both have 64-bit processors and use ARM Cortex A5x CPU cores instead of Qualcomm-designed Kraits. They leverage the big.LITTLE architecture, similar to the Samsung Exynos quad and hexa-core chipsets.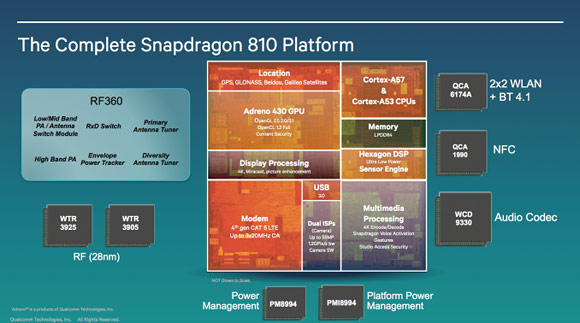 The Snapdragon 810 is the latest high-end chipset. It features four Cortex-A57 and four Cortex-A53 processor cores. The power consumption will probably actually be even as the 20% difference will be offset by the use of a 20 nm manufacturing process, instead of 28 nm.
Basically the Snapdragon 810 is an octa-core processor, but the CPU cores are divided into two groups. All cores can work at the same time, but cores in a group must use the same frequency, though the two groups can use different clocks.
The Snapdragon 810 has a brand new Adreno 430 GPU, which is 30% faster than the Adreno 420 GPU. The chipset also has a hardware H265/HEVC encoder. The ISP uses 14-bit image processing, both of which can have tangible effects on camera image quality. It has a 64-bit bus to LPDDR-1600 RAM, that's 3,200 MHz data rate and 25.6 GB/s bandwidth.
As for the Snapdragon 808, it uses hexa-core processor - two Cortex-A57 cores and four Cortex-A53 cores. The chipset also uses a brand new Adreno 418 GPU, which is 30% better performance than the Adreno 330 GPU. The chipset has a 64-bit memory bus to LPDDR3-933 RAM, that's 1,866 MHz data rate and 15 GB/s bandwidth. The chipset has an ISP that can decode H265/HEVC but not encode it.
Both chipsets should be available in H1 2015.
Source