The 41 MP monster finally get unwrapped, Nokia has just announced their new flagship Windows Phone 8 device - Lumia 1020 with 41 MP camera.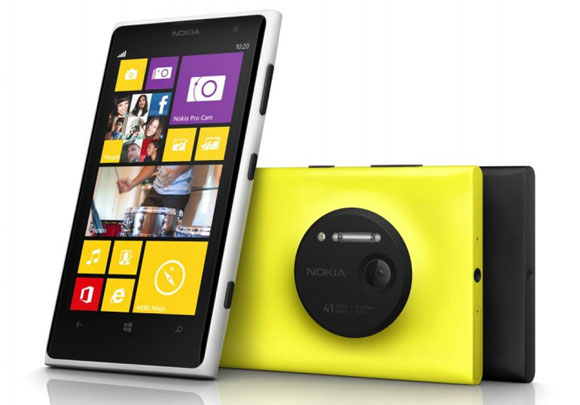 The Lumia 1020 looks quite like the Lumia 920, but it does offers better specs than the Lumia 920. The 41 MP camera makes the Lumia 1020 shine and it is autofocus PureView camera with 1/1.5" BSI sensor, 6-lens ZEISS optics and optical image stabilization (OIS). It has a LED flash for video shooting and a xenon flash alongside the camera lens.
The Lumia 1020 can snap 40 MP and 5 MP photos at the same time. It comes with Pro Camera and Smart Camera camera lens apps. The camera lens apps allow you to shoot impressive photos and it even has a full manual mode. The Lumia 1020 has a 1.2 MP wide-angle camera at the front.
The Nokia Lumia 1020 can record 1080p resolution video and the high-res sensor features lossless zoom. You can zoom in up to 4 times in 1080p mode and up to 6 times in 720p mode.
The Lumia 1020 not only has a good camera, it also comes with some killer specs which is the best in Windows Phone 8. The Lumia 1020 has a 4.5" Clear Black AMOLED display of 1280 x 768 pixels resolution. It is protected by Gorilla Glass 3 and features PureMotion HD+ technology for smoother animations. It is runs on Windows Phone 8 Amber OS.
The Lumia 1020 is powered by a 1.5 GHz dual-core Snapdragon S4 CPU which is similar to the Lumia 925. A nice additional is the 2 GB of RAM and 32 GB internal storage with 7 GB of free SkyDrive storage.
At the connectivity side includes Bluetooth 3.0, NFC, dual-band Wi-Fi 802.11 a/b/g/n and GPS with Glonass support. It is also a LTE smartphone which let you experience fast internet speed.
Nokia Lumia 1020 has a 2,000 mAh battery and support wireless charging via an accessory cover. Although the impressive camera is large, but the Lumia 1020 still offers a acceptable dimensions at
130.4 x 71.4 x 10.4 mm, it is almost same size as the Lumia 920. The Lumia 1020 is also lighter than it predecessor at 158 g.
To know more information about the Lumia 1020, you can click
here
. Unfortunately, we do not know whether the Lumia 1020 will be available in Malaysia or not. So check back from us with more news about the Lumia 1020.