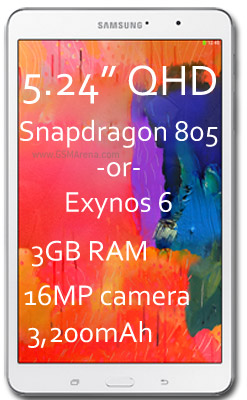 It seems that the Samsung Galaxy S5 will be a huge competitor to Sony, HTC, LG and even Apple.
Just as other manufacturers, the specs of the Galaxy S5 have leaked, and we get to know more about the upcoming Samsung flagship.
We start from the display first, the Galaxy S5 will has a 5.24 inches Super AMOLED display screen with QHD a.k.a 2K resolution
(2,560 x 1,600 pixel), and the pixels will jump to 560 ppi.
The Galaxy S5 will have two editions, which is the metal-body edition and plastic-body edition. The Galaxy S5 will have another two editions too (not design, is about the chipset) one will be the Qualcomm Snapdragon 805 edition, another will be the Exynos 6 edition. Both device chipset will have 3 GB of RAM and the internal storage will be 32 GB and 64 GB. The 16 GB variant is missing .
As for the camera, it has 16 MP primary camera and the front-facing camera will be 3.2 MP. There's no word on the video recording resolution but we expect it will be having a 4K video recording.
Lastly, the battery will be 3,200 mAh that same with Galaxy Note 3. If the rumors are true, it'll runs Android 4.4.2 KitKat with revamped Touch Wiz UI.
The Samsung Galaxy S5 is expected to be debut on

24th of February

, which will held in Barcelona.
Source